The Ethics of God's World (1) Matthew 5:21-37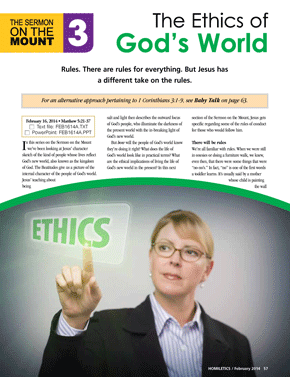 Rules. There are rules for everything. But Jesus has a different take on the rules.
The Sermon on the Mount (3)

The lectionary readings in February give us four lections from Matthew 5 of what is commonly called Jesus' "Sermon on the Mount" (Matthew 5-7). In this discourse, Jesus gives us a glimpse of what he called the kingdom of God or the kingdom of heaven. Today, the word "kingdom" is somewhat culturally distant from the experience of most 21C Americans. That's why we're using the phrase "God's world" instead of the more obtuse "kingdom." Jesus said that God's world was both future and present. That is, in the future, God will install a new structure, a new "government," and this, he says, is what it will look like. But Jesus also says that God's world has already, in another sense, entered into the present age.

In the Matthew 5 readings, we are given an Instagram shot of the "People of God's World," and the "Ethics of God's World." The breakdown looks like this:

February 2: The People of God's World (1) -- 5:1-12
February 9: The People of God's World (2) --...
Start your risk free trial to view the entire installment!
START YOUR RISK-FREE TRIAL
---