Flash-Mob Messiah Revelation 5:11-14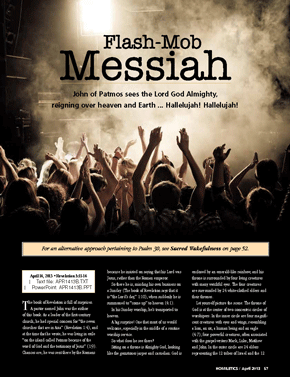 John of Patmos sees the Lord God Almighty, reigning over heaven and Earth ... Hallelujah! Hallelujah!
At a Glance

This material begins with the flash-mob phenomenon, and with one in particular -- a sudden gathering of people who start singing the "Hallelujah Chorus."


Editors' Pick

Homiletics has treated today's gospel text five times. If you'd prefer to preach from the gospel reading, consider "Feed, Tend, Feed," April 25, 2004. Go to HomileticsOnline.com and use the Scripture search box or Date search box.


The book of Revelation is full of surprises.

A pastor named John was the author of this book. As a leader of the first-century church, he had special concern for "the seven churches that are in Asia" (Revelation 1:4), and at the time that he wrote, he was living in exile "on the island called Patmos because of the word of God and the testimony of Jesus" (1:9). Chances are, he was sent there by the Romans because he insisted on saying that his Lord was Jesus, rather than the Roman emperor.

So there he is, minding his own business on a Sunday (The book of Revelation says that it is...
Start your risk free trial to view the entire installment!
START YOUR RISK-FREE TRIAL
---