App-ing Toward Holiness Luke 4:1-13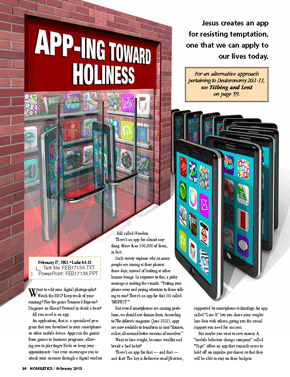 Jesus creates an app for resisting temptation, one that we can apply to our lives today.
At a Glance

Some estimates say that more than 500,000 apps are now available for our smartphones or other mobile devices. These apps are supposed to make our lives easier. So is there an app for everything? Even breaking bad habits?


Editors' Pick

For material based on today's epistle reading, see "The Disappearing Sample Lady," March 4, 2001, at HomileticsOnline.com.


Want to edit your digital photographs? Watch the BBC? Keep track of your running? Play the game Trainyard Express? Diagnose an illness? Pretend to drink a beer?

All you need is an app.

An application, that is: a specialized program that you download to your smartphone or other mobile device. Apps run the gamut from games to business programs, allowing you to play Angry Birds or keep your appointments. One even encourages you to attack your enemies through a digital voodoo doll called iVoodoo.

There's an app for almost anything. More than 500,000 of them, in fact.

Such variety explains why so many people are staring at their...
Start your risk free trial to view the entire installment!
START YOUR RISK-FREE TRIAL
---