Taking Back Halloween Psalm 34:1-8, (19-22)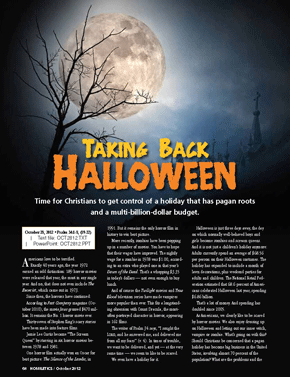 Time for Christians to get control of a holiday that has pagan roots and a multi-billion-dollar budget.
At a Glance

This is an odd factoid, but your congregation will find it interesting: The year 1972, 40 years ago, goes down as the year in which more horror movies were produced than any other year -- like, 189 of them! Perhaps the most famous, The Exorcist, came out the following year, 1973. So, on this eerie 40th anniversary of that horror-ible year, and three days from Halloween, we take a look at this most bedeviling of holidays for Christians.


Editors' Pick

For material based on the gospel text ("Blind Bartimaeus"), see "The Problem of Presbyopia," October 25, 2009, at HomileticsOnline.com.


Americans love to be terrified.

Exactly 40 years ago, the year 1972 earned an odd distinction: 189 horror movies were released that year, the most in any single year. And no, that does not even include The Exorcist, which came out in 1973.

Since then, the horrors have continued:

According to Fast Company magazine (October 2010), the movie Jaws grossed $470 million. It remains the...
Start your risk free trial to view the entire installment!
START YOUR RISK-FREE TRIAL
---