The Illuminated Scripture Acts 8:26-40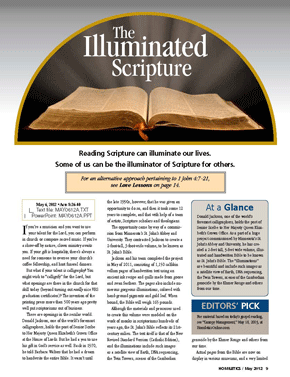 Reading Scripture can illuminate our lives. Some of us can be the illuminator of Scripture for others.
At a Glance

Donald Jackson, one of the world's foremost calligraphers, holds the post of Senior Scribe to Her Majesty Queen Elizabeth's Crown Office. As a part of a huge project commissioned by Minnesota's St. John's Abbey and University, he has created a 2-feet tall, 3-feet wide volume, illustrated and handwritten Bible to be known as St. John's Bible. The "illuminations" are beautiful and include such images as a satellite view of Earth, DNA sequencing, the Twin Towers, scenes of the Cambodian genocide by the Khmer Rouge and others from our time.


Editors' Pick

For material based on today's gospel reading, see "Canopy Management," May 18, 2003, at HomileticsOnline.com.


If you're a musician and you want to use your talent for the Lord, you can perform in church or compose sacred music. If you're a show-off by nature, clown ministry awaits you. If your gift is hospitality, there's always a need for someone to oversee your church's coffee fellowship, and host funeral dinners.

But what if...
Start your risk free trial to view the entire installment!
START YOUR RISK-FREE TRIAL
---