All-In Christians John 3:14-21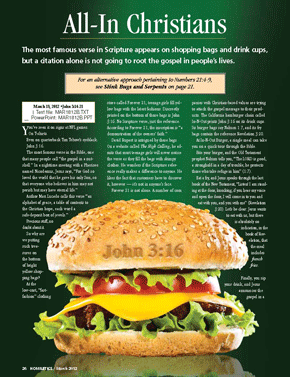 The most famous verse in Scripture appears on shopping bags and drink cups, but a citation alone is not going to root the gospel in people's lives.
At a Glance

You're likely to see John 3:16 just about everywhere. Some Christians believe that this sort of guerrilla gospelling works. At the very least, it reveals the religious perspective of the sponsor. So our material today begins with some examples of faith-based companies who love to hit customers with a quick gospel text before they know what's happened. Sort of a Hit-N-Run approach, or, we could say, an In-N-Out approach, also the name of a California burger chain.


Editors' Pick

For material based on the epistle text, see "The Trace of Grace," March 9, 1997, at HomileticsOnline.com.


You've seen it on signs at NFL games.

On T-shirts.

Even on quarterback Tim Tebow's eyeblack.

John 3:16.

The most famous verse in the Bible, one that many people call "the gospel in a nutshell." In a nighttime meeting with a Pharisee named Nicodemus, Jesus says, "For God so loved the world that he gave his only Son, so that everyone who believes in him may not perish but may have eternal life."

Author Max...
Start your risk free trial to view the entire installment!
START YOUR RISK-FREE TRIAL
---