What Not to Miss at Christmas Luke 2:(1-7), 8-20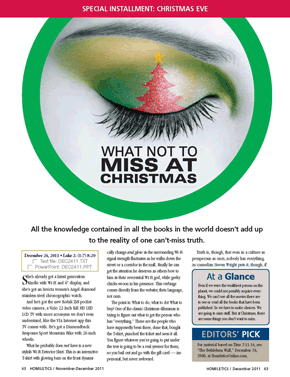 All the knowledge contained in all the books in the world doesn't add up to the reality of one can't-miss truth.
At a Glance

Even if we were the wealthiest person on the planet, we could not possibly acquire everything. We can't see all the movies there are to see or read all the books that have been published. So we have to make choices. We are going to miss stuff. But at Christmas, there are some things you don't want to miss.


Editors' Pick

For material based on Titus 2:11-14, see "The Bethlehem Wall," December 24, 2008, at HomileticsOnline.com.


She's already got a latest generation Kindle with Wi-Fi and 6" display, and she's got an Invicta women's Angel diamond stainless steel chronographic watch.

And he's got the new Kodak Zi8 pocket video camera, a Vizio 22-Inch full HD LED LCD TV with more acronyms we don't even understand, like the VIA Internet app this TV comes with. He's got a Diamondback Response Sport Mountain Bike with 26-inch wheels.

What he probably does not have is a new stylish Wi-Fi Detector Shirt. This is an interactive T-shirt with glowing bars on the front dynamically change and ...
Start your risk free trial to view the entire installment!
START YOUR RISK-FREE TRIAL
---