The 170-foot Shepherd Ezekiel 34:11-16, 20-24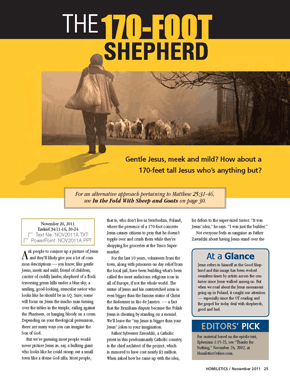 Gentle Jesus, meek and mild? How about a 170-feet tall Jesus who's anything but?
At a Glance

Jesus refers to himself as the Good Shepherd and this image has been evoked countless times by artists across the centuries since Jesus walked among us. But when we read about the Jesus monument going up in Poland, it caught our attention -- especially since the OT reading and the gospel for today deal with shepherds, good and bad.


Editors' Pick

For material based on the epistle text, Ephesians 1:15-23, see "Thanks for Nothing," November 24, 2002, at HomileticsOnline.com.


Ask people to conjure up a picture of Jesus and they'll likely give you a lot of common descriptions -- you know, like gentle Jesus, meek and mild; friend of children; carrier of cuddly lambs; shepherd of a flock traversing green hills under a blue sky; a smiling, good-looking, muscular savior who looks like he should be in GQ. Sure, some will focus on Jesus the macho man turning over the tables in the temple, railing against the Pharisees, or hanging bloody on a cross. Depending on your theological...
Start your risk free trial to view the entire installment!
START YOUR RISK-FREE TRIAL
---