Whatever Happened to Moses? Deuteronomy 34:1-12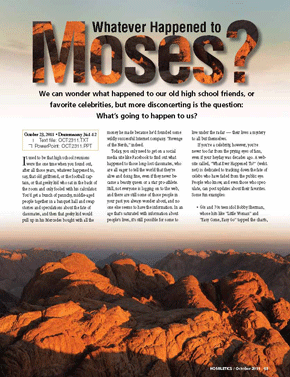 We can wonder what happened to our old high school friends, or favorite celebrities, but more disconcerting is the question: What's going to happen to us?
At a Glance

Andy Warhol said that everyone's going to get his or her 15 minutes of fame. Then what? Today we look at a website that makes an effort to track some of the celebrities of the past to give a voyeuristic public a peek into what's going on in their lives now -- or to track what happened to them before they died and after they'd long since faded from public view. We then go to Moses, whose career was spectacular to say the least -- from a basket in the Nile, to the court of the pharaoh, to Mt. Sinai and Mt. Nebo. Whatever happened to him? What's going to happen to us?


Editors' Pick

For material based on the gospel text, see "Helper's High," October 23, 2005, at HomileticsOnline.com.


It used to be that high school reunions were the one time when you found out, after all those years, whatever happened to, say, that old girlfriend, or the football captain, or that geeky kid who sat in the back of the room and only fooled with his calculator. You'd get a bunch of paunchy, middle-aged ...
Start your risk free trial to view the entire installment!
START YOUR RISK-FREE TRIAL
---