The Peace Corps of God Philippians 4:1-9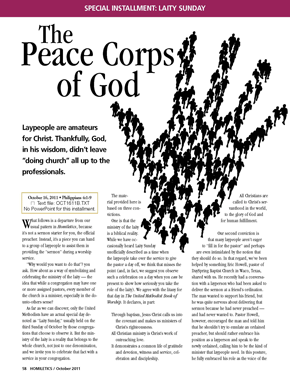 Laypeople are amateurs for Christ. Thankfully, God, in his wisdom, didn't leave "doing church" all up to the professionals.
At a Glance

It's Laity Sunday. What to do? What to do? Well, here are some ideas that will help you guide the preparations for Laity Sunday.


Editors' Pick

For material based on today's gospel reading, see "Mint Errors," October 20, 2005, at HomileticsOnline.com.


NO POWERPOINT FOR THIS INSTALLMENT

What follows is a departure from our usual pattern in Homiletics, because it's not a sermon starter for you, the official preacher. Instead, it's a piece you can hand to a group of laypeople to assist them in providing the "sermon" during a worship service.

"Why would you want to do that"? you ask. How about as a way of symbolizing and celebrating the ministry of the laity -- the idea that while a congregation may have one or more assigned pastors, every member of the church is a minister, especially in the do-unto-others sense?

As far as we can discover, only the United Methodists have an actual special day denoted as "Laity Sunday," usually held on the third Sunday of October by those...
Start your risk free trial to view the entire installment!
START YOUR RISK-FREE TRIAL
---