Dangerous Domain Romans 6:12-23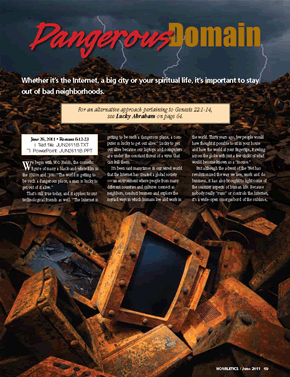 Whether it's the Internet, a big city or your spiritual life, it's important to stay out of bad neighborhoods.

At a Glance

Visitors to the Internet know that some domains are dangerous places to visit. McAfee has recently identified some of those bad domain names. The apostle Paul also has some ideas about how to avoid catching a really bad virus.


Editors' Pick

For an alternative approach to this same text, see "Escape-a-Date," June 26, 2005. Go to the Homiletics archives, HomileticsOnline.com. Search by Date or by Scripture.


We begin with W.C. Fields, the comedic figure of many a black-and-white film in the 1920s and '30s: "The world is getting to be such a dangerous place, a man is lucky to get out of it alive."

That's still true today, and it applies to our technological friends as well. "The Internet is getting to be such a dangerous place, a computer is lucky to get out alive." Lucky to get out alive because our laptops and computers are under the constant threat of a virus that can kill them.

It's been said many times in our wired world that the Internet has created a global society - an...
Start your risk free trial to view the entire installment!
START YOUR RISK-FREE TRIAL
---