An Eight-Word Mission Statement John 14:15-21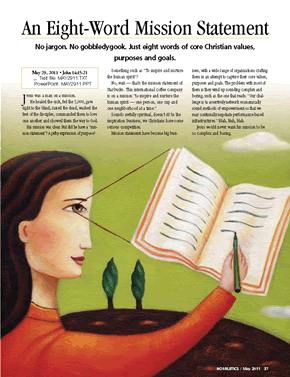 No jargon. No gobbledygook. Just eight words of core Christian values, purposes and goals.

At a Glance

Most mission statements, according to Kevin Starr in the Harvard Business Review, are "awash in jargon and marble-mouthed pronouncements." Ouch! He says any enterprise needs a short statement, no more than eight words long, that includes "Verb, target, outcome." Can the church come up with something like that?


Editors' Pick

For a different approach to this same text, see "What We Can Learn from Dogs," May 5, 2002, in the Homiletics archives, HomileticsOnline.com. Search by Date or by Scripture.


Jesus was a man on a mission.

He healed the sick, fed the 5,000, gave sight to the blind, raised the dead, washed the feet of the disciples, commanded them to love one another and showed them the way to God.

His mission was clear. But did he have a "mission statement"? A pithy expression of purpose?

Something such as "To inspire and nurture the human spirit"?

No, wait - that's the mission statement of Starbucks. This international coffee company is on a mission "to inspire and nurture the...
Start your risk free trial to view the entire installment!
START YOUR RISK-FREE TRIAL
---