The Problem with Boundary Lines Psalm 16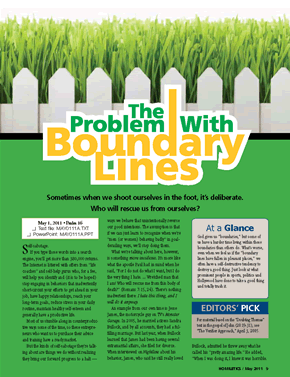 Sometimes when we shoot ourselves in the foot, it's deliberate.

Who will rescue us from ourselves?


At a Glance

God gives us "boundaries," but some of us have a harder time living within those boundaries than others do. What's worse, even when we feel as if the "boundary lines have fallen in pleasant places," we often have a self-destructive tendency to destroy a good thing. Just look at what prominent people in sports, politics and Hollywood have done to take a good thing and totally trash it.


Editors' Pick

For material based on the "Doubting Thomas" text in the gospel of John (20:19-31), see "The Verifier Approach," April 3, 2005.


Self-sabotage.

If you type those words into a search engine, you'll get more than 380,000 returns. The Internet is littered with offers from "life coaches" and self-help gurus who, for a fee, will help you identify and (it is to be hoped) stop engaging in behaviors that inadvertently short-circuit your efforts to get ahead in your job, have happy relationships, reach your long-term goals, reduce stress in your daily routine, maintain healthy self-esteem and...
Start your risk free trial to view the entire installment!
START YOUR RISK-FREE TRIAL
---