Judging the Judges 1 Corinthians 4:1-5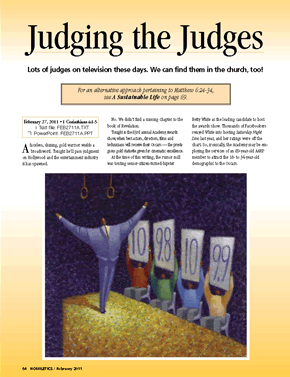 Lots of judges on television these days. We can find them in the church, too!

A faceless, shining, gold warrior wields a broadsword. Tonight he'll pass judgment on Hollywood and the entertainment industry it has spawned.

No. We didn't find a missing chapter to the book of Revelation.

Tonight is the 83rd annual Academy Awards show, when best actors, directors, films and technicians will receive their Oscars — the prestigious gold statuette given for cinematic excellence.

At the time of this writing, the rumor mill was touting senior-citizen-turned-hipster Betty White as the leading candidate to host the awards show. Thousands of Facebookers swayed White into hosting Saturday Night Live last year, and her ratings were off the chart. So, ironically, the Academy may be employing the services of an 89-year-old AARP member to attract the 18- to 34-year-old demographic to the Oscars.

And then there's the "Who wore what?" conversations. Tonight's evening wear hits and misses will be dished out by Botoxed diva and self-appointed fashion critic Joan Rivers.

The show's host...
Start your risk free trial to view the entire installment!
START YOUR RISK-FREE TRIAL
---