Have Yourself a Happy Twitter New Year Hebrews 2:10-18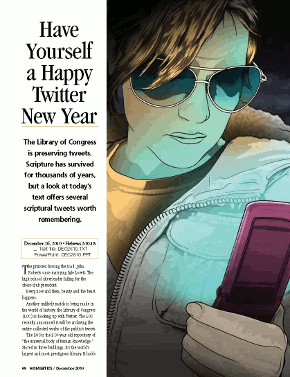 The Library of Congress is preserving tweets. Scripture has survived for thousands of years, but a look at today's text offers several scriptural tweets worth remembering.

The princess kissing the toad. Julia Roberts once marrying Lyle Lovett. The high-school cheerleader falling for the chess-club president.

Every now and then, beauty and the beast happens.

Another unlikely match is being made in the world of history: the Library of Congress (LOC) is hooking up with Twitter. The LOC recently announced it will be archiving the entire collected works of the public's tweets.

The LOC is the 210-year-old repository of "the universal body of human knowledge." Stored in three buildings, it's the world's largest and most prestigious library. It holds 130 million items that could span 745 miles of space.

Twitter has been around for about three years, and users currently send about 55 million 140-character tweets a day.

That means the LOC will be storing some 8 billion characters … per day! The math is staggering, but so is the concept. Here are some "important" tweets that will be permanently recorded in the annals of cultural history:

• @maxkiesler: "After 15 years...
Start your risk free trial to view the entire installment!
START YOUR RISK-FREE TRIAL
---