The Waters of Narnia Matthew 3:1-12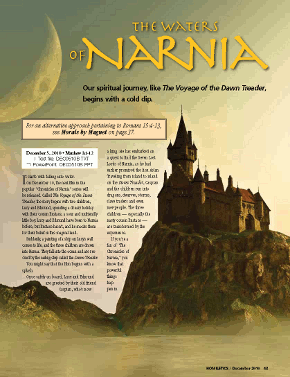 Our spiritual journey, like The Voyage of the Dawn Treader, begins with a cold dip.

It starts with falling into water.

On December 10, the next film in the popular "Chronicles of Narnia" series will be released. Called The Voyage of the Dawn Treader, the story begins with two children, Lucy and Edmund, spending a dreary holiday with their cousin Eustace, a sour and unfriendly little boy. Lucy and Edmund have been to Narnia before, but Eustace hasn't, and he mocks them for their belief in this magical land.

Suddenly, a painting of a ship on Lucy's wall comes to life, and the three children are drawn into Narnia. They fall into the ocean and are rescued by the sailing ship called the Dawn Treader.

You might say that the film begins with a splash.

Once safely on board, Lucy and Edmund are greeted by their old friend Caspian, who's now a king. He has embarked on a quest to find the Seven Lost Lords of Narnia, as he had earlier promised the lion Aslan. Traveling from island to island on the Dawn Treader, Caspian and the children run into dragons, dwarves, storms, slave...
Start your risk free trial to view the entire installment!
START YOUR RISK-FREE TRIAL
---