In Prison and You Visited Me Hebrews 13:1-8, 15-16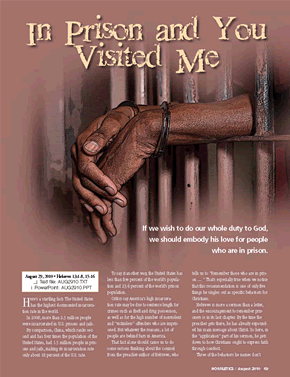 If we wish to do our whole duty to God, we should embody his love for people who are in prison.

Here's a startling fact: The United States has the highest documented incarceration rate in the world.

In 2008, more than 2.3 million people were incarcerated in U.S. prisons and jails.

By comparison, China, which ranks second and has four times the population of the United States, had 1.5 million people in prisons and jails, making its incarceration rate only about 18 percent of the U.S. rate.

To say it another way, the United States has less than five percent of the world's population and 23.4 percent of the world's prison population.

Critics say America's high incarceration rate may be due to sentence length for crimes such as theft and drug possession, as well as for the high number of nonviolent and "victimless" offenders who are imprisoned. But whatever the reasons, a lot of people are behind bars in America.

That fact alone should cause us to do some serious thinking about the counsel from the preacher-author of Hebrews, who tells us to "Remember those who are in prison .... "...
Start your risk free trial to view the entire installment!
START YOUR RISK-FREE TRIAL
---