Creative Repurposing Galatians 2:15-21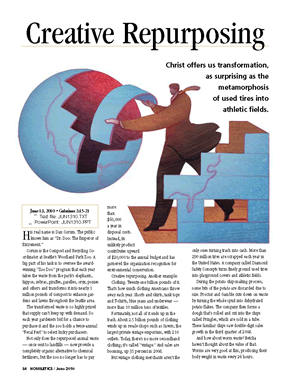 Christ offers us transformation, as surprising as the metamorphosis of used tires into athletic fields.

His real name is Dan Corum. The public knows him as "Dr. Doo: The Emperor of Excrement."

Corum is the Compost and Recycling Coordinator at Seattle's Woodland Park Zoo. A big part of his task is to oversee the award-winning "Zoo Doo" program that each year takes the waste from the park's elephants, hippos, zebras, giraffes, gazelles, oryx, ponies and others and transforms it into nearly 1 million pounds of compost to enhance gardens and lawns throughout the Seattle area.

The transformed waste is so highly prized that supply can't keep up with demand. So each year gardeners bid for a chance to purchase it and the zoo holds a twice-annual "Fecal Fest" to select lucky purchasers.

Not only does the repurposed animal waste — once sent to landfills — now provide a completely organic alternative to chemical fertilizers, but the zoo no longer has to pay more than $60,000 a year in disposal costs. Instead, its unlikely product contributes upward of $20,000 to the annual budget and has garnered...
Start your risk free trial to view the entire installment!
START YOUR RISK-FREE TRIAL
---