No Safety for a Savior John 13:1-17, 31b-35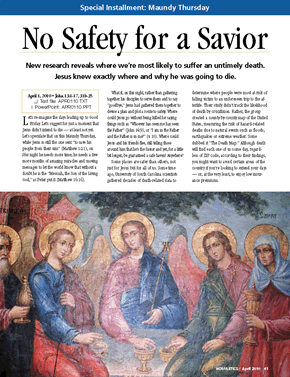 New research reveals where we're most likely to suffer an untimely death. Jesus knew exactly where and why he was going to die.

Let's re-imagine the days leading up to Good Friday. Let's suggest for just a moment that Jesus didn't intend to die — at least not yet. Let's speculate that on this Maundy Thursday, while Jesus is still the one sent "to save his people from their sins" (Matthew 1:21), on this night he needs more time; he needs a few more months of amazing miracles and moving messages to let the world know that without a doubt he is the "Messiah, the Son of the Living God," as Peter put it (Matthew 16:16).

What if, on this night, rather than gathering together his disciples to serve them and to say "goodbye," Jesus had gathered them together to devise a plan and plot a route to safety. Where could Jesus go without being killed for saying things such as "Whoever has seen me has seen the Father" (John 14:9), or "I am in the Father and the Father is in me?" (v. 10). Where could Jesus and his friends flee, still telling those around him that he's the Savior and yet, for a little bit longer, be guaranteed...
Start your risk free trial to view the entire installment!
START YOUR RISK-FREE TRIAL
---