The Five-Question Quiz Philippians 3:17-4:1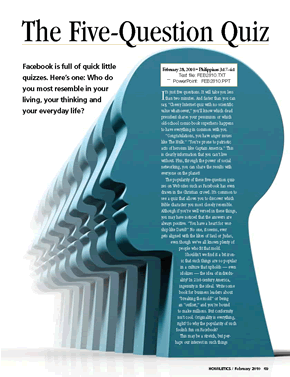 Facebook is full of quick little quizzes. Here's one: Who do you most resemble in your living, your thinking and your everyday life?

It's just five questions. It will take you less than two minutes. And faster than you can say, "Cheesy Internet quiz with no scientific value whatsoever," you'll know which dead president shares your pessimism or which old-school comic-book superhero happens to have everything in common with you.

"Congratulations, you have anger issues like The Hulk." "You're prone to patriotic acts of heroism like Captain America." This is clearly information that you can't live without. Plus, through the power of social networking, you can share the results with everyone on the planet!

The popularity of these five-question quizzes on Web sites such as Facebook has even drawn in the Christian crowd. It's common to see a quiz that allows you to discover which Bible character you most closely resemble. Although if you're well versed in these things, you may have noticed that the answers are always positive. "You have a heart for worship like David!" No one, it seems, ever gets aligned with the likes of...
Start your risk free trial to view the entire installment!
START YOUR RISK-FREE TRIAL
---