Friending Jesus Isaiah 9:2-7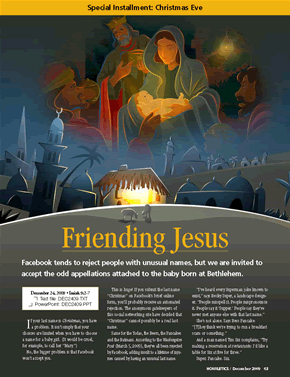 Facebook tends to reject people with unusual names, but we are invited to accept the odd appellations attached to the baby born at Bethlehem.

If your last name is Christmas, you have a problem. It isn't simply that your choices are limited when you have to choose a name for a baby girl. (It would be cruel, for example, to call her "Mary.")

No, the bigger problem is that Facebook won't accept you.

This is huge! If you submit the last name "Christmas" on Facebook's brief online form, you'll probably receive an automated rejection. The anonymous gatekeepers of this social networking site have decided that "Christmas" cannot possibly be a real last name.

Same for the Yodas, the Beers, the Pancakes and the Batmans. According to the Washington Post (March 5, 2009), they've all been rejected by Facebook, adding insult to a lifetime of injuries caused by having an unusual last name.

"I've heard every Superman joke known to exist," says Becky Super, a landscape designer. "People misspell it. People mispronounce it. People say it 'Supper.' People say they've never met anyone else with that last name."

She's not alone. Says Bess...
Start your risk free trial to view the entire installment!
START YOUR RISK-FREE TRIAL
---