The Bulls of Bashan Psalm 22:1-15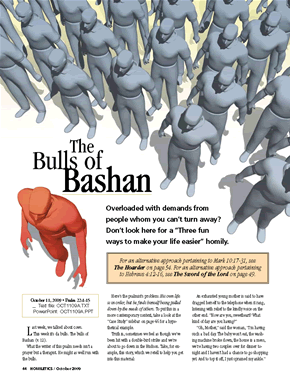 Overloaded with demands from people whom you can't turn away? Don't look here for a "Three fun ways to make your life easier" homily.

Last week, we talked about cows.

This week it's da bulls. The bulls of Bashan (v. 12).

What the writer of this psalm needs isn't a prayer but a therapist. He might as well run with the bulls.

Here's the psalmist's problem: His own life is in order, but he finds himself being pulled down by the needs of others. To put this in a more contemporary context, take a look at the "Case Study" sidebar on page 46 for a hypothetical example.

Truth is, sometimes we feel as though we've been hit with a double-bird strike and we're about to go down in the Hudson. Take, for example, this story, which we retell to help you get into this material:

An exhausted young mother is said to have dragged herself to the telephone when it rang, listening with relief to the kindly voice on the other end. "How are you, sweetheart? What kind of day are you having?"

"Oh, Mother," said the woman, "I'm having such a bad day. The baby won't eat, the washing machine broke down, the house is a mess, we're having two...
Start your risk free trial to view the entire installment!
START YOUR RISK-FREE TRIAL
---