The Bread of Life (3): Jesus Is Good 4U John 6:35, 41-51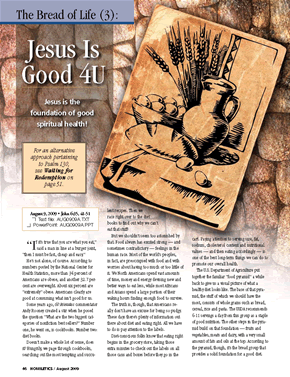 Jesus is the foundation of good spiritual health!

"If it's true that you are what you eat," said a man in line at a burger joint, "then I must be fast, cheap and easy."

He's not alone, of course. According to numbers posted by the National Center for Health Statistics, more than 34 percent of Americans are obese, and another 32.7 percent are overweight. About six percent are "extremely" obese. Americans clearly are good at consuming what isn't good for us.

Some years ago, 60 Minutes commentator Andy Rooney created a stir when he posed the question "What are the two biggest categories of nonfiction best sellers?" Number one, he went on, is cookbooks. Number two: diet books.

Doesn't make a whole lot of sense, does it? Hungrily, we page through cookbooks, searching out the most tempting and succulent recipes. Then we race right over to the diet books to find out why we can't eat that stuff!

But we shouldn't seem too astonished by that. Food always has excited strong — and sometimes contradictory — feelings in the human race. Most of the...
Start your risk free trial to view the entire installment!
START YOUR RISK-FREE TRIAL
---