The Bread of Life: What Are You Hungry For? John 6:1-21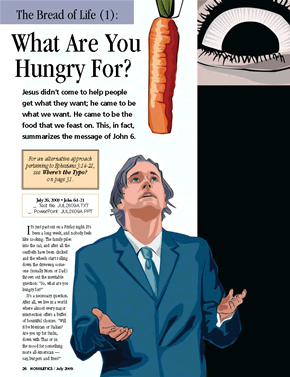 Jesus didn't come to help people get what they want; he came to be what we want. He came to be the food that we feast on. This, in fact, summarizes the message of John 6.

It's just past six on a Friday night. It's been a long week, and nobody feels like cooking. The family piles into the car, and after all the seatbelts have been clicked and the wheels start rolling down the driveway, someone (usually Mom or Dad) throws out the inevitable question: "So, what are you hungry for?"

It's a necessary question. After all, we live in a world where almost every major intersection offers a buffet of bountiful choices. "Will it be Mexican or Italian? Are you up for Sushi, down with Thai or in the mood for something more all-American — say, burgers and fries?"

This is the first of a five-part series based on the lectionary readings in John 6 for July 26, August 2, 9, 16 and 23.

July 26
The Bread of Life (1): What Are You Hungry For?
John 6:1-21

August 2
The Bread of Life (2): The Message in the Munchies
John 6:24-35

August 9
The Bread of Life (3): Jesus Is Good 4U
John 6:35, 41-51

August 16*
The Bread of Life (4): The Eucharistic Meal
John 6:51-58

August 23*
The Bread of Life...
Start your risk free trial to view the entire installment!
START YOUR RISK-FREE TRIAL
---