Cheating Death 2 Corinthians 5:6-10, 14-17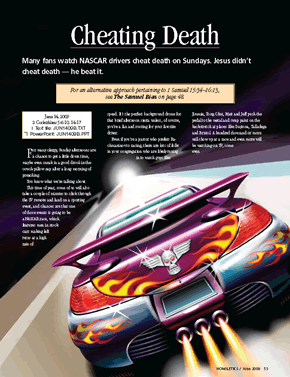 Many fans watch NASCAR drivers cheat death on Sundays. Jesus didn't cheat death — he beat it.

For many clergy, Sunday afternoons are a chance to get a little down time, maybe even sneak in a good drool-in-the-couch-pillow nap after a long morning of preaching.

You know what we're talking about.

This time of year, some of us will also take a couple of minutes to click through the TV remote and land on a sporting event, and chances are that one of those events is going to be a NASCAR race, which features men in stock cars making left turns at a high rate of speed. It's the perfect background drone for that brief afternoon siesta unless, of course, you're a fan and rooting for your favorite driver.

Even if you're a pastor who prefers Rachmaninov to racing, there are lots of folks in your congregation who are likely tuning in to watch guys like Jimmie, Tony, Clint, Matt and Jeff push the pedal to the metal and swap paint on the backstretch at places like Daytona, Talladega and Bristol. A hundred thousand or more will show up at a race and even more will be...
Start your risk free trial to view the entire installment!
START YOUR RISK-FREE TRIAL
---