The Samuel Bias 1 Samuel 15:34-16:13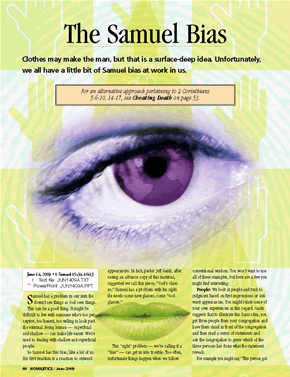 Clothes may make the man, but that is a surface-deep idea. Unfortunately, we all have a little bit of Samuel bias at work in us.

Samuel has a problem in our text: He doesn't see things as God sees things.

This can be a good thing. It might be difficult to live with someone who's too perceptive, too honest, too willing to look past the external. Being human — superficial and shallow — can make life easier. We're used to dealing with shallow and superficial people.

So Samuel has this bias, like a lot of us. His first reaction is a reaction to outward appearances. In fact, pastor Jeff Gantz, after seeing an advance copy of this material, suggested we call this piece, "God's Glasses." Samuel has a problem with his sight. He needs some new glasses, some "God glasses."

This "sight" problem — we're calling it a "bias" — can get us into trouble. Too often, unfortunate things happen when we follow conventional wisdom. You won't want to use all of these examples, but here are a few you might find interesting:...
Start your risk free trial to view the entire installment!
START YOUR RISK-FREE TRIAL
---