The Performance Art of God Genesis 9:8-17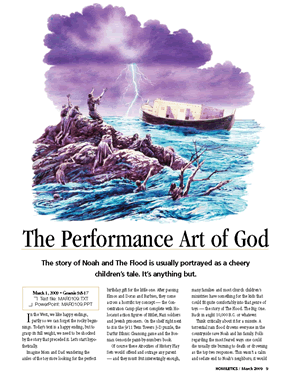 The story of Noah and The Flood is usually portrayed as a cheery children's tale. It's anything but.

In the West, we like happy endings, partly so we can forget the rocky beginnings. Today's text is a happy ending, but to grasp its full weight, we need to be shocked by the story that preceded it. Let's start hypothetically.

Imagine Mom and Dad wandering the aisles of the toy store looking for the perfect birthday gift for the little one. After passing Elmos and Doras and Barbies, they come across a horrific toy concept — the Concentration Camp play set complete with Holocaust action figures of Hitler, Nazi soldiers and Jewish prisoners. On the shelf right next to it is the 9/11 Twin Towers 3-D puzzle, the Darfur Ethnic Cleansing game and the Bosnian Genocide paint-by-numbers book.

Of course these Atrocities of History Play Sets would offend and outrage any parent — and they must! But interestingly enough, many families and most church children's ministries have something for the kids that could fit quite comfortably into that genre of toys — the story of The Flood. The Big One. Back in ...
Start your risk free trial to view the entire installment!
START YOUR RISK-FREE TRIAL
---