Is the Gospel Sinking? 2 Corinthians 4:3-6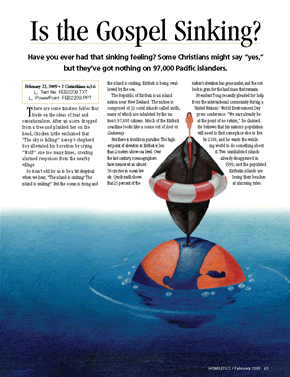 Have you ever had that sinking feeling? Some Christians might say "yes," but they've got nothing on 97,000 Pacific islanders.

There are some timeless fables that trade on the ideas of fear and sensationalism. After an acorn dropped from a tree and plunked her on the head, Chicken Little exclaimed that "The sky is falling!" Aesop's shepherd boy alleviated his boredom by crying "Wolf!" one too many times, creating alarmed responses from the nearby village.

So it isn't odd for us to be a bit skeptical when we hear, "The island is sinking! The island is sinking!" But the ocean is rising and the island is sinking. Kiribati is being swallowed by the sea.

The Republic of Kiribati is an island nation near New Zealand. The nation is comprised of 32 coral islands called atolls, many of which are inhabited by the nation's 97,000 citizens. Much of the Kiribati coastline looks like a scene out of Lost or Castaway.

But there is trouble in paradise. The highest point of elevation in Kiribati is less than 2 meters above sea level. Over the last century, oceanographers have measured an almost 50-cm rise in ocean levels. Quick...
Start your risk free trial to view the entire installment!
START YOUR RISK-FREE TRIAL
---