The Advent Conspiracy Matthew 25:14-30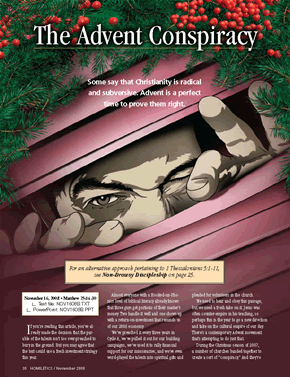 Some say that Christianity is radical and subversive. Advent is a perfect time to prove them right.

If you're reading this article, you've already made the decision that the parable of the talents isn't too over-preached to bury in the ground. But you may agree that the text could use a fresh investment strategy this year.

Almost everyone with a Hooked-on-Phonics level of biblical literacy already knows that three guys get portions of their master's money: Two handle it well and one shows up with a return-on-investment that reminds us of our 2008 economy.

We've preached it every three years in Cycle A, we've pulled it out for our building campaigns, we've used it to rally financial support for our missionaries, and we've even word-played the talents into spiritual gifts and pleaded for volunteers in the church.

We need to hear and obey this passage, but we need a fresh take on it. Jesus was often counter-empire in his teaching, so perhaps this is the year to go a new direction and take on the cultural empire of our day. There's a...
Start your risk free trial to view the entire installment!
START YOUR RISK-FREE TRIAL
---