The Height of Humility Matthew 23:1-12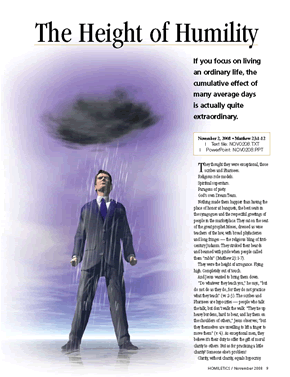 If you focus on living an ordinary life, the cumulative effect of many average days is actually quite extraordinary.

They thought they were exceptional, those scribes and Pharisees.

Religious role models.

Spiritual superstars.

Paragons of piety.

God's own Dream Team.

Nothing made them happier than having the place of honor at banquets, the best seats in the synagogues and the respectful greetings of people in the marketplace. They sat on the seat of the great prophet Moses, dressed as wise teachers of the law, with broad phylacteries and long fringes — the religious bling of first- century Judaism. They stroked their beards and beamed with pride when people called them "rabbi" (Matthew 23:1-7).

They were the height of arrogance. Flying high. Completely out of touch.

And Jesus wanted to bring them down.

"Do whatever they teach you," he says, "but do not do as they do, for they do not practice what they teach" (vv. 2-3). The scribes and Pharisees are hypocrites — people who talk the talk, but don't walk the walk. "They tie up heavy burdens, hard to bear, and lay them on the shoulders of others," Jesus...
Start your risk free trial to view the entire installment!
START YOUR RISK-FREE TRIAL
---