Fourth and One Genesis 32:22-31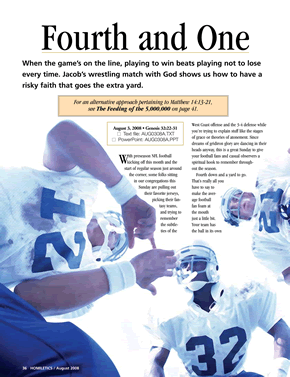 When the game's on the line, playing to win beats playing not to lose every time. Jacob's wrestling match with God shows us how to have a risky faith that goes the extra yard.

With preseason NFL football kicking off this month and the start of regular season just around the corner, some folks sitting in our congregations this Sunday are pulling out their favorite jerseys, picking their fantasy teams, and trying to remember the subtleties of the West Coast offense and the 3-4 defense while you're trying to explain stuff like the stages of grace or theories of atonement. Since dreams of gridiron glory are dancing in their heads anyway, this is a great Sunday to give your football fans and casual observers a spiritual hook to remember throughout the season.

Fourth down and a yard to go. That's really all you have to say to make the average football fan foam at the mouth just a little bit. Your team has the ball in its own territory, just short of midfield. It's late in the game and your team is up by three points. Make that yard and your team keeps the ball, moves the chains and burns up some clock. Make that yard and you have a chance to...
Start your risk free trial to view the entire installment!
START YOUR RISK-FREE TRIAL
---