The Natural Man (and Woman) at Prayer Genesis 28:10-19a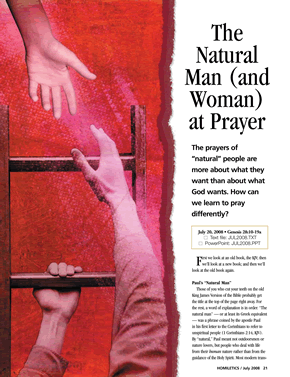 The prayers of "natural" people are more about what they want than about what God wants. How can we learn to pray differently?

First we look at an old book, the KJV; then we'll look at a new book; and then we'll look at the old book again.

Paul's "Natural Man"

Those of you who cut your teeth on the old King James Version of the Bible probably get the title at the top of the page right away. For the rest, a word of explanation is in order. "The natural man" — or at least its Greek equivalent — was a phrase coined by the apostle Paul in his first letter to the Corinthians to refer to unspiritual people (1 Corinthians 2:14, KJV). By "natural," Paul meant not outdoorsmen or nature lovers, but people who deal with life from their human nature rather than from the guidance of the Holy Spirit. Most modern translations of the Bible substitute the phrase "the unspiritual" (NRSV) or "the man without the Spirit" (NIV), but they are interpreting Paul's original phrase, "the natural man."

For Paul, the natural man...
Start your risk free trial to view the entire installment!
START YOUR RISK-FREE TRIAL
---