Living Literally Matthew 10:40-42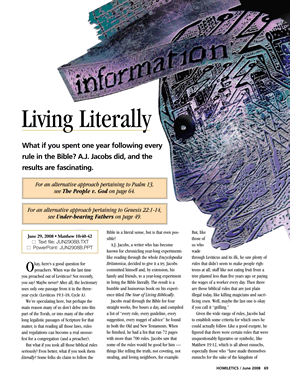 What if you spent one year following every rule in the Bible? A.J. Jacobs did, and the results are fascinating.

Okay, here's a good question for preachers. When was the last time you preached out of Leviticus? Not recently, you say? Maybe never? After all, the lectionary uses only one passage from it in the three-year cycle (Leviticus 19:1-18, Cycle A).

We're speculating here, but perhaps the main reason many of us don't delve into this part of the Torah, or into many of the other long legalistic passages of Scripture for that matter, is that reading all those laws, rules and regulations can become a real snooze-fest for a congregation (and a preacher).

But what if you took all those biblical rules seriously? Even better, what if you took them literally? Some folks do claim to follow the Bible in a literal sense, but is that even possible?

A.J. Jacobs, a writer who has become known for chronicling year-long experiments like reading through the whole Encyclopedia Britannica, decided to give it a try. Jacobs committed himself and, by extension, his family and friends, to a...
Start your risk free trial to view the entire installment!
START YOUR RISK-FREE TRIAL
---