eHowHope 1 Peter 3:13-22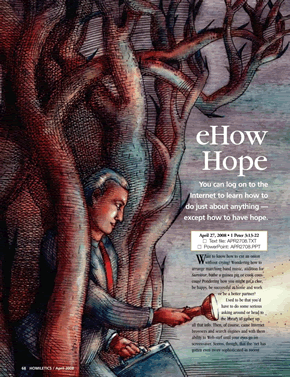 You can log on to the Internet to learn how to do just about anything — except how to have hope.

Want to know how to cut an onion without crying? Wondering how to arrange marching band music, audition for Survivor, bathe a guinea pig or cook couscous? Pondering how you might get a clue, be happy, be successful at home and work or be a better partner?

Used to be that you'd have to do some serious asking around or head to the library to gather up all that info. Then, of course, came Internet browsers and search engines and with them ability to Web-surf until your eyes go on screensaver. Seems, though, that the 'net has gotten even more sophisticated in recent years with sites now dedicated to organizing all that info and locating it in one place in cyberspace.

One such site that's breaking new ground in this area is eHow.com. It's what the name implies — a site where you can learn, "How to do just about anything." It's a one-stop shop for all DIYers.

Punch in your how-to question in eHow's search engine and you'll come up with step-by-step articles written by readers and...
Start your risk free trial to view the entire installment!
START YOUR RISK-FREE TRIAL
---