@ the Name of Jesus Philippians 2:5-11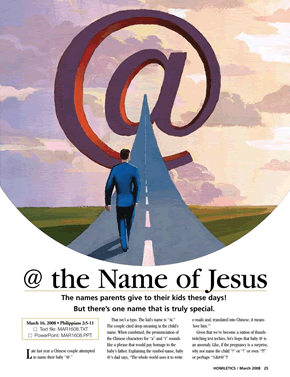 The names parents give to their kids these days! But there's one name that is truly special.

Late last year a Chinese couple attempted to name their baby "@."

That isn't a typo. The kid's name is "At." The couple cited deep meaning in the child's name. When combined, the pronunciation of the Chinese characters for "a" and "t" sounds like a phrase that would pay homage to the baby's father. Explaining the symbol-name, baby @'s dad says, "The whole world uses it to write e-mails and, translated into Chinese, it means 'love him.'"

Given that we've become a nation of thumb-twitching text techies, let's hope that baby @ is an anomaly. Like, if the pregnancy is a surprise, why not name the child "?" or "!" or even "!!!" or perhaps "%@"!!

Teacher says, "What's your name, little boy?"

Little boy says, "My name is Percent Ampersand PoundSign At." Okaaaay.

Since you realize the huge costs of raising...
Start your risk free trial to view the entire installment!
START YOUR RISK-FREE TRIAL
---