Diamonds in the Rough Ephesians 5:8-14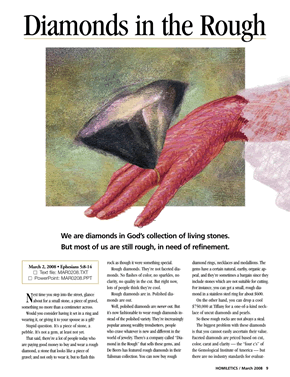 We are diamonds in God's collection of living stones. But most of us are still rough, in need of refinement.

Next time you step into the street, glance about for a small stone, a piece of gravel, something no more than a centimeter across.

Would you consider having it set in a ring and wearing it, or giving it to your spouse as a gift?

Stupid question. It's a piece of stone, a pebble. It's not a gem, at least not yet.

That said, there're a lot of people today who are paying good money to buy and wear a rough diamond, a stone that looks like a piece of gravel; and not only to wear it, but to flash this rock as though it were something special.

Rough diamonds. They're not faceted diamonds. No flashes of color, no sparkles, no clarity, no quality in the cut. But right now, lots of people think they're cool.

Rough diamonds are in. Polished diamonds are out.

Well, polished diamonds are never out. But it's now fashionable to wear rough diamonds instead of the polished variety. They're increasingly popular among wealthy trendsetters, people who crave whatever is new and different in the world of...
Start your risk free trial to view the entire installment!
START YOUR RISK-FREE TRIAL
---