The Will to Pill Psalm 32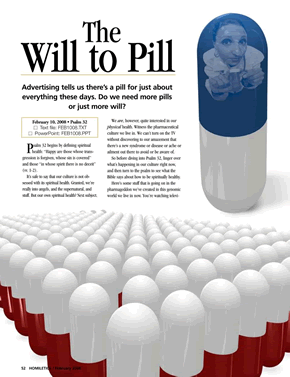 Advertising tells us there's a pill for just about everything these days. Do we need more pills or just more will?

Psalm 32 begins by defining spiritual health: "Happy are those whose transgression is forgiven, whose sin is covered" and those "in whose spirit there is no deceit" (vv. 1-2).

It's safe to say that our culture is not obsessed with its spiritual health. Granted, we're really into angels, and the supernatural, and stuff. But our own spiritual health? Next subject.

We are, however, quite interested in our physical health. Witness the pharmaceutical culture we live in. We can't turn on the TV without discovering to our amazement that there's a new syndrome or disease or ache or ailment out there to avoid or be aware of.

So before diving into Psalm 32, linger over what's happening in our culture right now, and then turn to the psalm to see what the Bible says about how to be spiritually healthy.

Here's some stuff that is going on in the pharmageddon we've created in this genomic world we live in now. You're watching television, as we said, and you see all these ads featuring happy and...
Start your risk free trial to view the entire installment!
START YOUR RISK-FREE TRIAL
---