The Re-Solution Ephesians 3:1-12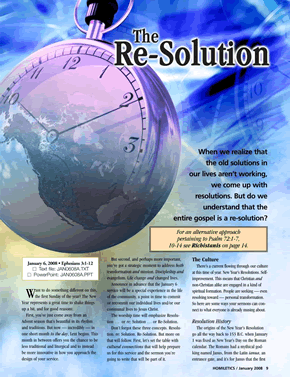 When we realize that the old solutions in our lives aren't working, we come up with resolutions. But do we understand that the entire gospel is a re-solution?
Want to do something different on this, the first Sunday of the year? The New Year represents a great time to shake things up a bit, and for good reasons:

First, you've just come away from an Advent season that's beautiful in its rhythm and traditions. But now — incredibly — in one short month to the day, Lent begins. This month in between offers you the chance to be less traditional and liturgical and to instead be more innovative in how you approach the design of your service.

But second, and perhaps more important, you've got a strategic moment to address both transformation and mission. Discipleship and evangelism. Life change and changed lives.

Announce in advance that the January 6 service will be a special experience in the life of the community, a point in time to commit or recommit our individual lives and/or our communal lives to Jesus Christ.

The worship time will emphasize Resolution … or re: Solution … or Re-Solution.

Don't forgot these...
Start your risk free trial to view the entire installment!
START YOUR RISK-FREE TRIAL
---