Un-Zero Colossians 1:11-20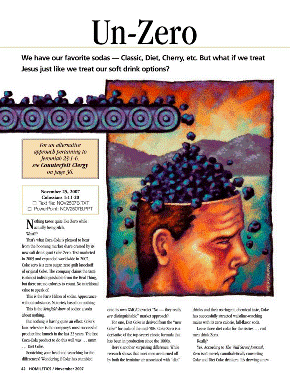 We have our favorite sodas — Classic, Diet, Cherry, etc. But what if we treat Jesus just like we treat our soft drink options?

Nothing tastes quite like Zero while actually being zilch.

What?!?

That's what Coca-Cola is pleased to hear from the booming market share created by its new soft drink giant Coke Zero. Test-marketed in 2005 and expanded worldwide in 2007, Coke zero is a zero sugar, zero guilt knockoff of original Coke. The company claims the taste is almost indistinguishable from the Real Thing, but there are no calories to count. No nutritional value to speak of.

This is the Paris Hilton of sodas. Appearance without substance. Notoriety based on nothing.

This is the Seinfeld show of sodas: a soda about nothing.

But nothing is having quite an effect. Coke's faux refresher is the company's most successful product line launch in the last 22 years. The last Coca-Cola product to do this well was … umm … Diet Coke.

Scratching your head and searching for the differences? Wondering if Coke has stumbled onto its own GMC/Chevrolet "No — they really are distinguishable" market...
Start your risk free trial to view the entire installment!
START YOUR RISK-FREE TRIAL
---