Scent of a Woman John 12:1-8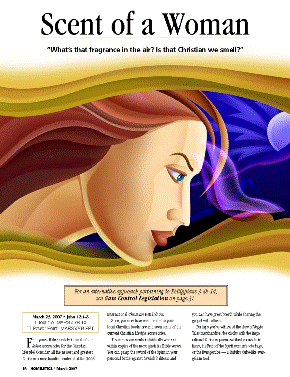 "What's that fragrance in the air? Is that Christian we smell?"

Find yourself desperately in need of the latest accessories for the Christian lifestyle? Consider all the newest and greatest Christian-y merchandise tendered at the 2006 International Christian Retail Show.

Sure, you may have wandered into your local Christian bookstore and seen some of the current Christian lifestyle accessories.

Testamints are mints individually wrapped within copies of the most quotable Bible verses. You can grasp the sword of the Spirit in your personal battle against devilish halitosis and you can have great breath while sharing the gospel with others.

Perhaps you've witnessed the slew of Veggie Tales merchandise, the clocks with the inspirational Christian poems scribed across their faces, the Fruit of the Spirit women's tote bags, or the Evangecube — a Rubik's Cube-like evangelism tool.

Well those are all yesterday's Christian lifestyle accessories. Quite passé for today's burgeoning Christian merchandise demand, which at last...
Start your risk free trial to view the entire installment!
START YOUR RISK-FREE TRIAL
---