Brain Buckets Mark 1:9-15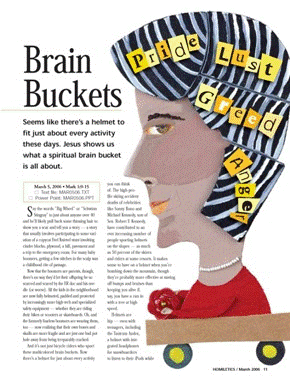 Seems like there's a helmet to fit just about every activity these days. Jesus shows us what a spiritual brain bucket is all about.
Say the words "Big Wheel" or "Schwinn Stingray" to just about anyone over 40 and he'll likely pull back some thinning hair to show you a scar and tell you a story — a story that usually involves participating in some variation of a copycat Evel Knievel stunt involving cinder blocks, plywood, a hill, pavement and a trip to the emergency room. For many baby boomers, getting a few stitches in the scalp was a childhood rite of passage.

Now that the boomers are parents, though, there's no way they'd let their offspring be so scarred and scared by the ER doc and his needle (or worse). All the kids in the neighborhood are now fully helmeted, padded and protected by increasingly more high-tech and specialized safety equipment — whether they are riding their bikes or scooters or skateboards. Oh, and the formerly fearless boomers are wearing them, too — now realizing that their own bones and skulls are more fragile and are just one bad pothole away from being irreparably cracked.

And it's not...
Start your risk free trial to view the entire installment!
START YOUR RISK-FREE TRIAL
---