Triple Nines John 1:43-51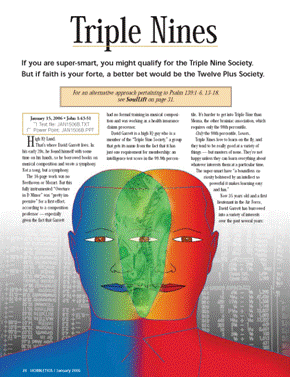 If you are super-smart, you might qualify for the Triple Nine Society. But if faith is your forte, a better bet would be the Twelve Plus Society.

High IQ Land.

That's where David Garrett lives. In his early 20s, he found himself with some time on his hands, so he borrowed books on musical composition and wrote a symphony. Not a song, but a symphony.

The 16-page work was no Beethoven or Mozart. But this fully instrumented "Overture in D Minor" was "pretty impressive" for a first effort, according to a composition professor — especially given the fact that Garrett had no formal training in musical composition and was working as a health insurance claims processor.

David Garrett is a high IQ guy who is a member of the "Triple Nine Society," a group that gets its name from the fact that it has just one requirement for membership: an intelligence test score in the 99.9th percentile. It's harder to get into Triple Nine than Mensa, the other brainiac association, which requires only the 98th percentile.

Only the 98th percentile. Losers.

Triple Nines love to learn on the fly, and they...
Start your risk free trial to view the entire installment!
START YOUR RISK-FREE TRIAL
---