The UN, the PL and the KG Deuteronomy 34:1-12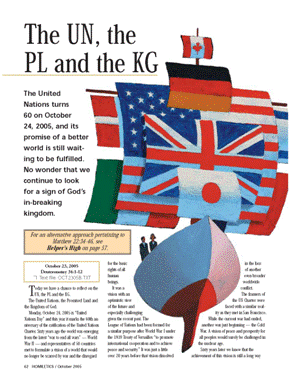 The United Nations turns 60 on October 24, 2005, and its promise of a better world is still waiting to be fulfilled. No wonder that we continue to look for a sign of God's in-breaking kingdom.

Today we have a chance to reflect on the UN, the PL and the KG.

The United Nations, the Promised Land and the Kingdom of God.

Monday, October 24, 2005 is "United Nations Day" and this year it marks the 60th anniversary of the ratification of the United Nations Charter. Sixty years ago the world was emerging from the latest "war to end all wars" — World War II — and representatives of 50 countries met to formulate a vision of a world that would no longer be scarred by war and the disregard for the basic rights of all human beings.

It was a vision with an optimistic view of the future and especially challenging given the recent past. The League of Nations had been formed for a similar purpose after World War I under the 1919 Treaty of Versailles "to promote international cooperation and to achieve peace and security." It was just a little over 20 years before that vision dissolved in the face of another even broader worldwide conflict.

The...
Start your risk free trial to view the entire installment!
START YOUR RISK-FREE TRIAL
---