Whatever Culture Romans 13:8-14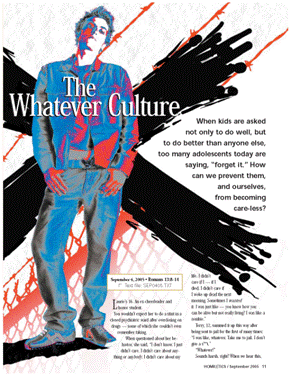 When kids are asked not only to do well, but to do better than anyone else, too many adolescents today are saying, "forget it." How can we prevent them, and ourselves, from becoming care-less?
Laurie's 16. An ex-cheerleader and honor student.

You wouldn't expect her to do a stint in a closed psychiatric ward after overdosing on drugs — some of which she couldn't even remember taking.

When questioned about her behavior, she said, "I don't know. I just didn't care. I didn't care about anything or anybody. I didn't care about my life. I didn't care if I — if I died. I didn't care if I woke up dead the next morning. Sometimes I wanted it. I was just like — you know how you can be alive but not really living? I was like a zombie."

Terry, 12, summed it up this way after being sent to jail for the first of many times: "I was like, whatever. Take me to jail. I don't give a s**t."

"Whatever!"

Sounds harsh, right? When we hear this, our reaction might range from mild irritation, to anger or despair. How do you deal with someone who expresses such utter indifference and disdain?

Whatever! It's an adolescent mantra that's bonded to a snarling semantic: "Like, do what you want, it's not...
Start your risk free trial to view the entire installment!
START YOUR RISK-FREE TRIAL
---