Hyper Nike Romans 8:26-39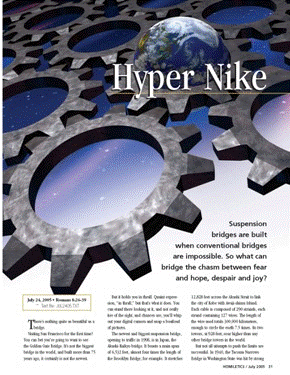 Suspension bridges are built when conventional bridges are impossible. So what can bridge the chasm between fear and hope, despair and joy?

There's nothing quite as beautiful as a bridge.

Visiting San Francisco for the first time? You can bet you're going to want to see the Golden Gate Bridge. It's not the biggest bridge in the world, and built more than 75 years ago, it certainly is not the newest.

But it holds you in thrall. Quaint expression, "in thrall," but that's what it does. You can stand there looking at it, and not really tire of the sight, and chances are, you'll whip out your digital camera and snap a boatload of pictures.

The newest and biggest suspension bridge, opening to traffic in 1998, is in Japan, the Akashi-Kaikyo bridge. It boasts a main span of 6,532 feet, almost four times the length of the Brooklyn Bridge, for example. It stretches 12,828 feet across the Akashi Strait to link the city of Kobe with Awaji-shima Island. Each cable is composed of 290 strands, each strand containing 127 wires. The length of the wire used totals 300,000 kilometers, enough to circle...
Start your risk free trial to view the entire installment!
START YOUR RISK-FREE TRIAL
---