Christ and the Idiosyncrologous Culture Matthew 9:35-10:8 (9-23)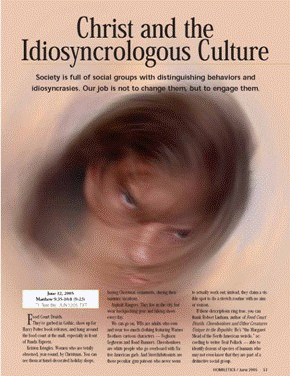 Society is full of social groups with distinguishing behaviors and idiosyncrasies. Our job is not to change them, but to engage them.

Food Court Druids.

They're garbed in Gothic, show up for Harry Potter book releases, and hang around the food court at the mall, especially in front of Panda Express.

Kristen Kringles. Women who are totally obsessed, year-round, by Christmas. You can see them at tinsel-decorated holiday shops, buying Christmas ornaments, during their summer vacations.

Asphalt Rangers. They live in the city, but wear backpacking gear and hiking shoes every day.

We can go on. WBs are adults who own and wear too much clothing featuring Warner Brothers cartoon characters — Foghorn Leghorns and Road Runners. Cherohonkees are white people who go overboard with Native American garb. And Stretchibitionists are those peculiar gym patrons who never seem to actually work out; instead, they claim a visible spot to do a stretch routine with no aim or reason.

If these descriptions ring true, you can thank Robert Lanham, author of Food Court Druids, Cherohonkees and Other Creatures Unique to the Republic....
Start your risk free trial to view the entire installment!
START YOUR RISK-FREE TRIAL
---