Txt Tlk Acts 2:14a, 36-41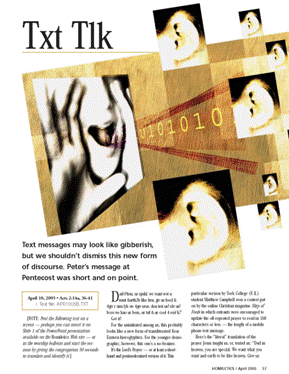 Text messages may look like gibberish, but we shouldn't dismiss this new form of discourse. Peter's message at Pentecost was short and on point.

[NOTE: Post the following text on a screen — perhaps you can insert it on Slide 1 of the PowerPoint presentation available on the Homiletics Web site — or in the worship bulletin and start the sermon by giving the congregation 30 seconds to translate and identify it.]

Dad@hvn, ur spshl. we want wot u want &urth2b like hvn. giv us food & 4giv r sins lyk we 4giv uvaz. don test us! sAv us! bcos we kno ur boss, ur tuf & ur cool 4 eva! k?'

Got it?

For the uninitiated among us, this probably looks like a new form of transliterated Near Eastern hieroglyphics. For the younger demographic, however, this one's a no-brainer.

It's the Lord's Prayer — or at least a shorthand and postmodernized version of it. This particular version by York College (U.K.) student Matthew Campbell won a contest put on by the online Christian magazine Ship of Fools in which entrants were encouraged to update the oft-repeated prayer to read in 160 characters or less...
Start your risk free trial to view the entire installment!
START YOUR RISK-FREE TRIAL
---