The Immanuel Name Domain Isaiah 7:10-16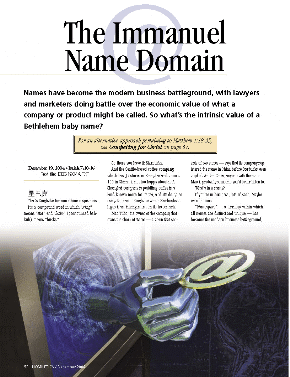 Names have become the modern business battleground, with lawyers and marketers doing battle over the economic value of what a company or product might be called. So what's the intrinsic value of a Bethlehem baby name?
[NOTE: In the print version, the actual Chinese characters appear here. To find these characters to copy, paste, and project, simply type in Xingbake as a keyword, and you will find some sites where the characters will show up.]

That's Xingbake for non—Chinese speakers.

It's a compound word in which "xing" means "star" and "bake" (pronounced bah—kuh) means "bucks."

So there you have it: Starbucks.

And the Seattle—based coffee company, which has 37 stores in Shanghai and almost 100 in China, is not too happy about it. A Shanghai company is peddling coffee in a land known more for its tea, and it's doing so using the name Xingbake which Starbucks alleges is an infringement on its trademark.

Mao Yubo, the owner of the company that owns the chain of stores — a chain that consists of two stores — says that its company registered the name in China before Starbucks even applied. And in China, anyone with the name Mao is probably someone you'd better listen to.

What's in a name?

If you're in...
Start your risk free trial to view the entire installment!
START YOUR RISK-FREE TRIAL
---