3179 Dilatant Compound Psalm 32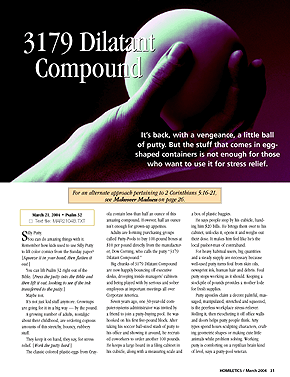 It's back, with a vengeance, a little ball of putty. But the stuff that comes in egg-shaped containers is not enough for those who want to use it for stress relief.

For an alternate approach pertaining to 2 Corinthians 5:16-21, see Makeover Madness on page 26.
Silly Putty.

You can do amazing things with it. Remember how kids used to use Silly Putty to lift color comics from the Sunday paper? [Squeeze it in your hand, then flatten it out.]

You can lift Psalm 32 right out of the Bible. [Press the putty into the Bible and then lift it out, looking to see if the ink transferred to the putty.]

Maybe not.

It's not just kid stuff anymore. Grownups are going for it in a big way — by the pound.

A growing number of adults, nostalgic about their childhood, are ordering copious amounts of this stretchy, bouncy, rubbery stuff.

They keep it on hand, they say, for stress relief. [Work the putty hard.]

The classic colored plastic-eggs from Crayola contain less than half an ounce of this amazing compound. However, half an ounce isn't enough for grown-up appetites.

Adults are forming purchasing groups called Putty-Pools to buy 100-pound boxes at $10 per pound directly from the manufacturer, Dow Corning, who calls the putty "3179 Dilatant Compound."

Big chunks of...
Start your risk free trial to view the entire installment!
START YOUR RISK-FREE TRIAL
---