Mr. Goodwrench and Mr. McDonald 1 Corinthians 12:12-31a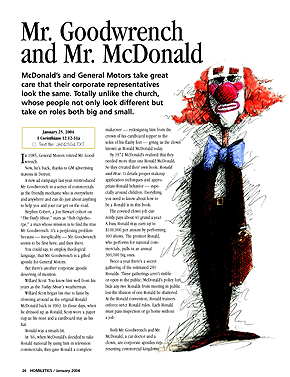 McDonald's and General Motors take great care that their corporate representatives look the same. Totally unlike the church, whose people not only look different but take on roles both big and small.
In 1985, General Motors retired Mr. Goodwrench.

Now, he's back, thanks to GM advertising mavens in Detroit.

A new ad campaign last year reintroduced Mr. Goodwrench in a series of commercials as the friendly mechanic who is everywhere and anywhere and can do just about anything to help you and your car get on the road.

Stephen Cobert, a Jon Stewart cohort on "The Daily Show," stars as "Bob Oglethorpe," a man whose mission is to find the true Mr. Goodwrench. It's a perplexing problem because — inexplicably — Mr. Goodwrench seems to be first here, and then there.

You could say, to employ theological language, that Mr. Goodwrench is a gifted apostle for General Motors.

But there's another corporate apostle deserving of mention.

Willard Scott. You know him well from his years as the Today Show's weatherman.

Willard Scott began his rise to fame by clowning around as the original Ronald McDonald back in 1963. In those days, when he dressed up as Ronald, Scott wore a paper cup as his nose and a...
Start your risk free trial to view the entire installment!
START YOUR RISK-FREE TRIAL
---